Turn up the volume of your HI - HAT
For Hi-Hat Cymbals, Crashing, Consistently & Loudly!!! Lift top tube under bottom cymbal & lever springs into place. Let go, & the Randy is on with pre-adjusted thrash cymbal sound, Cymbals barely touching, not used for the cymbals closed soft drop clutch sound, free up your left foot to play double bass and ride Hi-Hat, splash them, or thrash them, flip lever and your top tube with bottom cymbal drops back to traditional Hi-Hat position. Durable, once set! It remains permanent and remembers your settings with no set up time!!! Raise your tube & ride the Randy!!! Email: Correspondence GoFundMe.com the Randy Hi Hat adaptor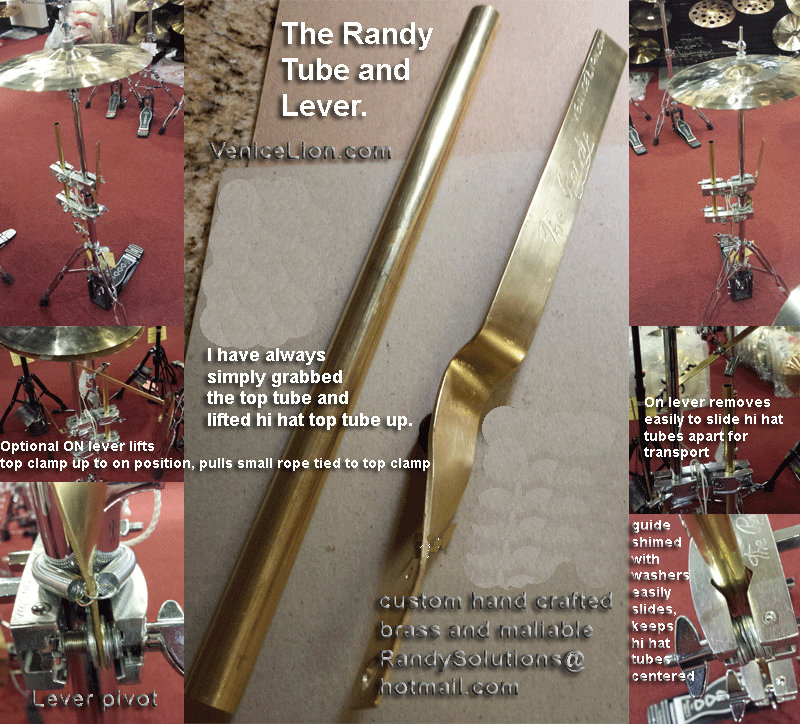 Scroll down for instructions on how to make your own Randy various iterations.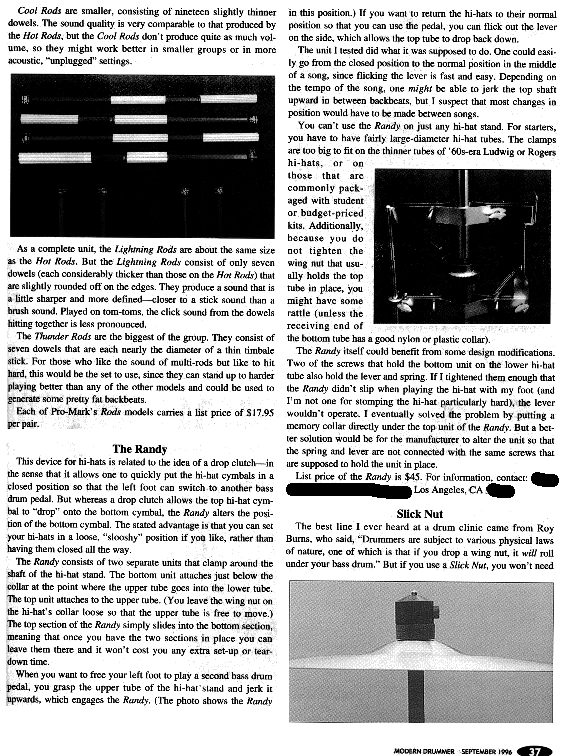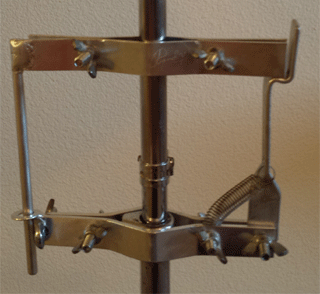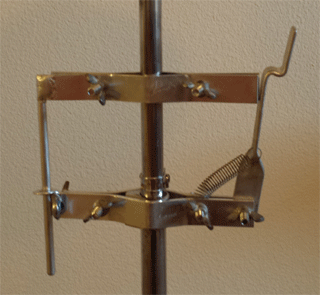 Below 2017 (new version) 1960's Ludwig HI HAT with one leg removed (allowing room for left bass drum foot pedal), a 5/16 inch rod (purchased at hardware store (towel rod) clamped to Hi Hat (bottom clamp), with a Randy lever, springs and (top clamp) clamped on to top tube for the rod to slide through. This is the Hi Hat that is the best I've put together so far. The old hardware really holds up and was built to take a pounding. There is no additional set up time and packs up, transports easily and unpacks and sets up fast. Dial in your settings by adjusting the clamps if needed because once you have set it up the first time the settings remain as you left them. Pearl Clamps (ADP-20 Fits 5/8"~1-1/8" ).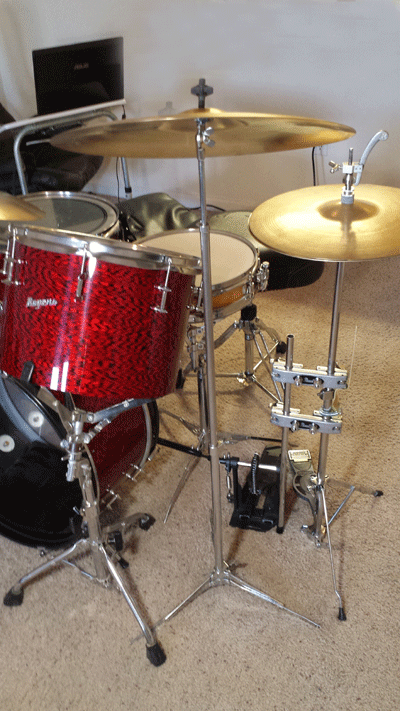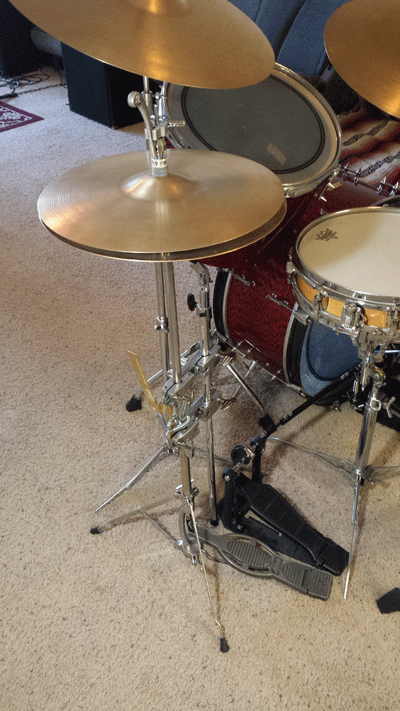 Example sound is Led Zeppelin drummer Jon Bonham on the song Rock & Roll This sound is accomplished by holding the foot on the Hi-Hat pedal manually or locking the clutch of the hi-hat in that position. The Randy adaptor allows for quickly positioning the cymbals for the loud sloshy sound by lifting it or the top tube of the hi-hat. And by flicking the lever releasing it and going back to the standard playing position that is pre-adjusted. The Randy Hi-Hat adaptor also allows the freeing up of the hi-hat foot to be able to play an extra bass pedal that drummers who play double bass or use double bass pedals set up next to the hi-hat pedal and also use a drop clutch on the very top to let the top cymbal fall onto the bottom so they can continue to use the hi-hat with the sticks. I used the Randy sound on this recording Venus Flyboy.mp3. This_Surf_City.mp3 The Randy is used (sparingly) on the HI HAT for this song (mostly closed with drop clutch), on (hit the pedal) near end of first guitar solo (off hit drop clutch) and on again near the end last guitar solo of the song then off to the end.
---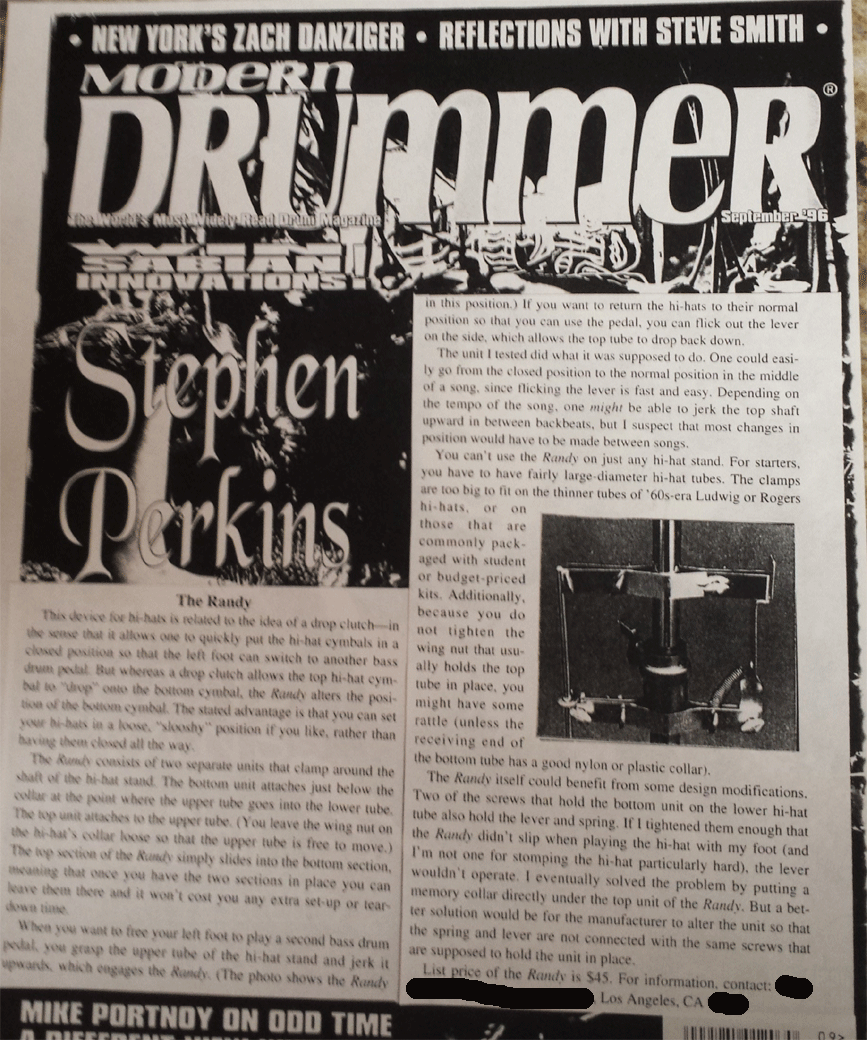 ---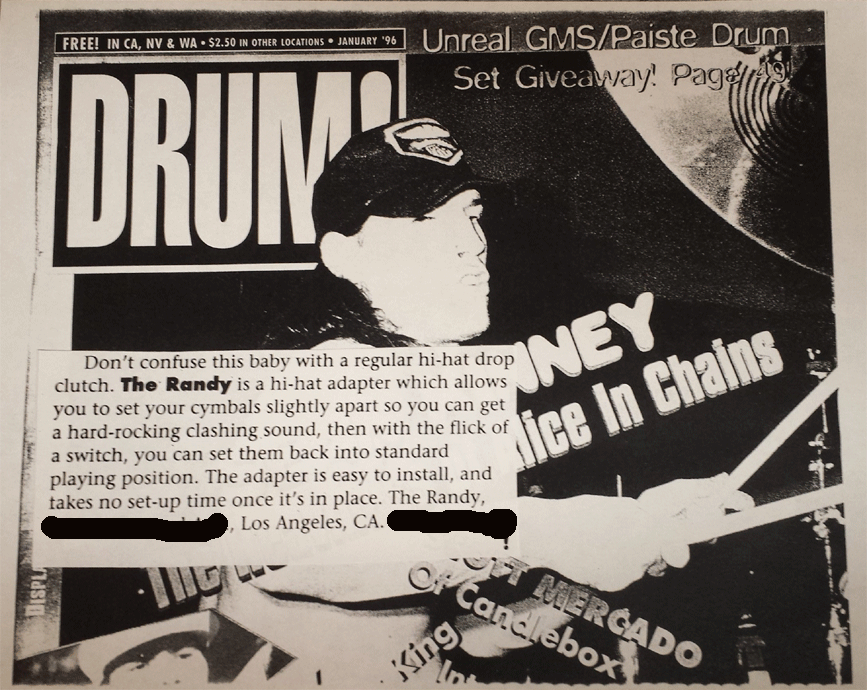 ---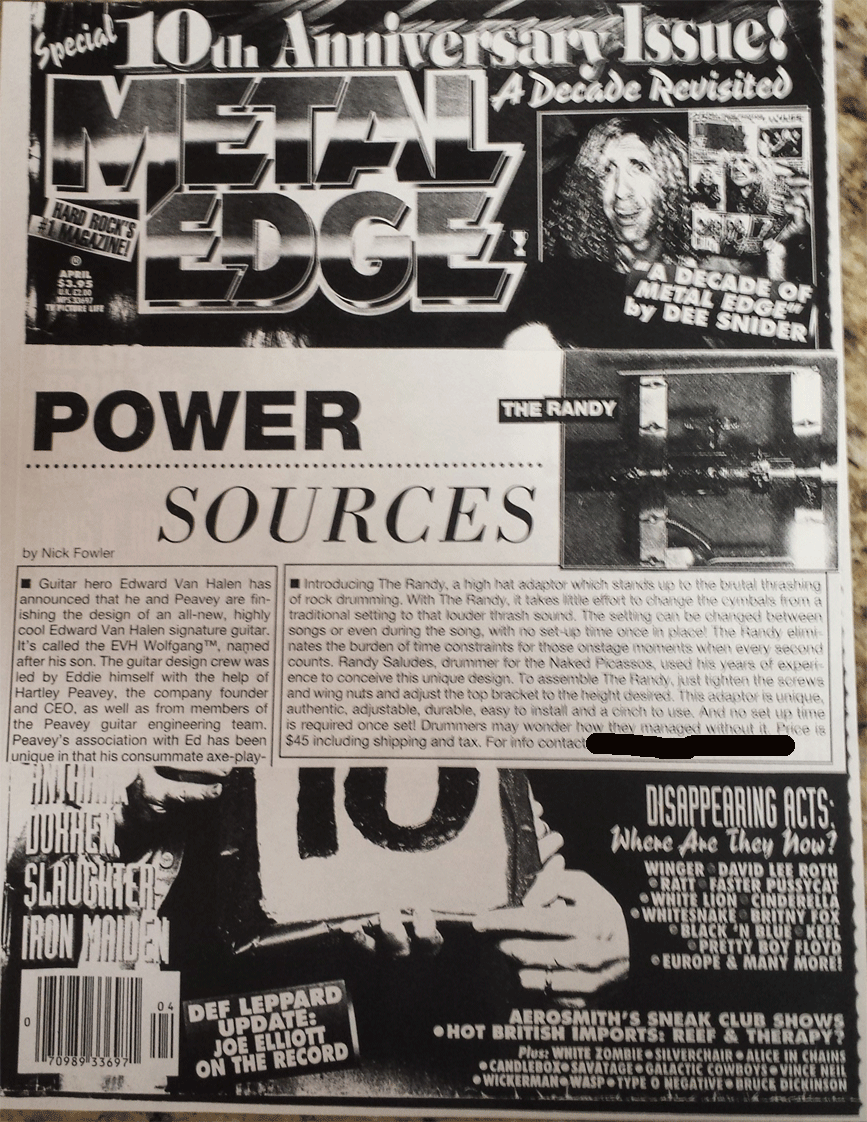 ---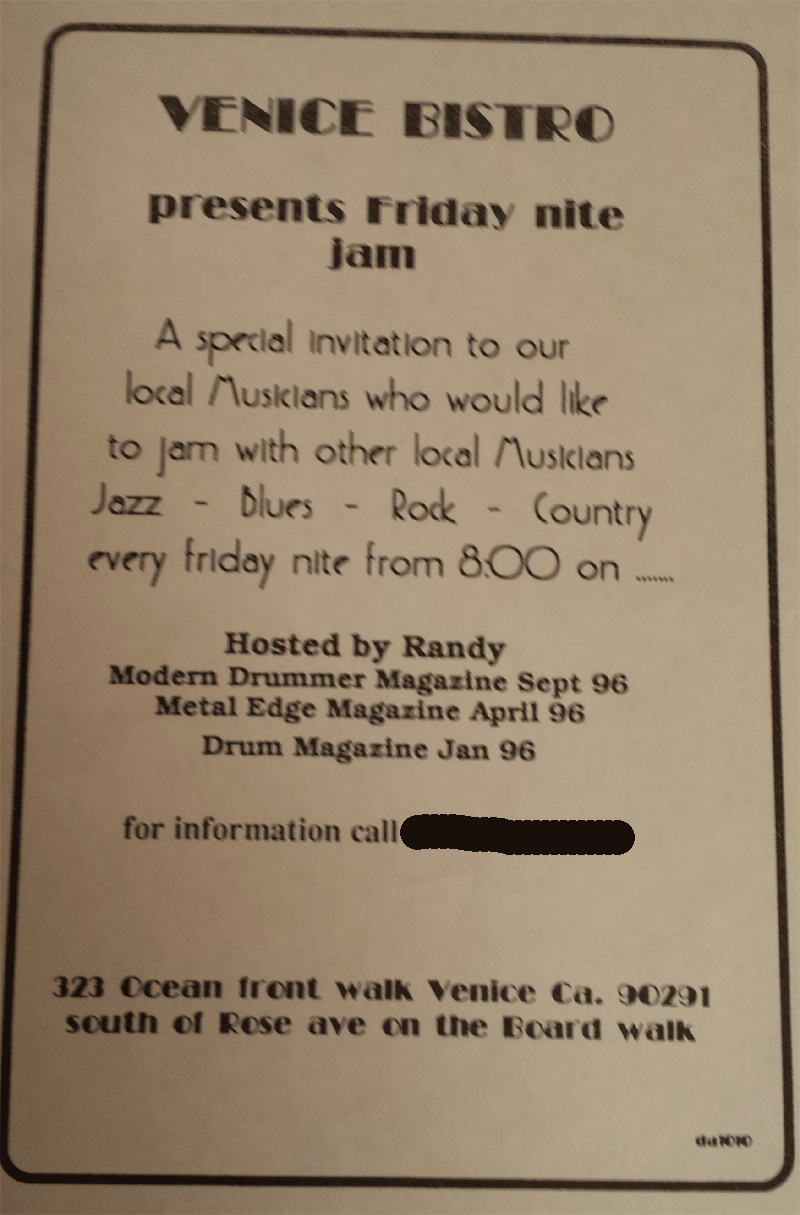 ---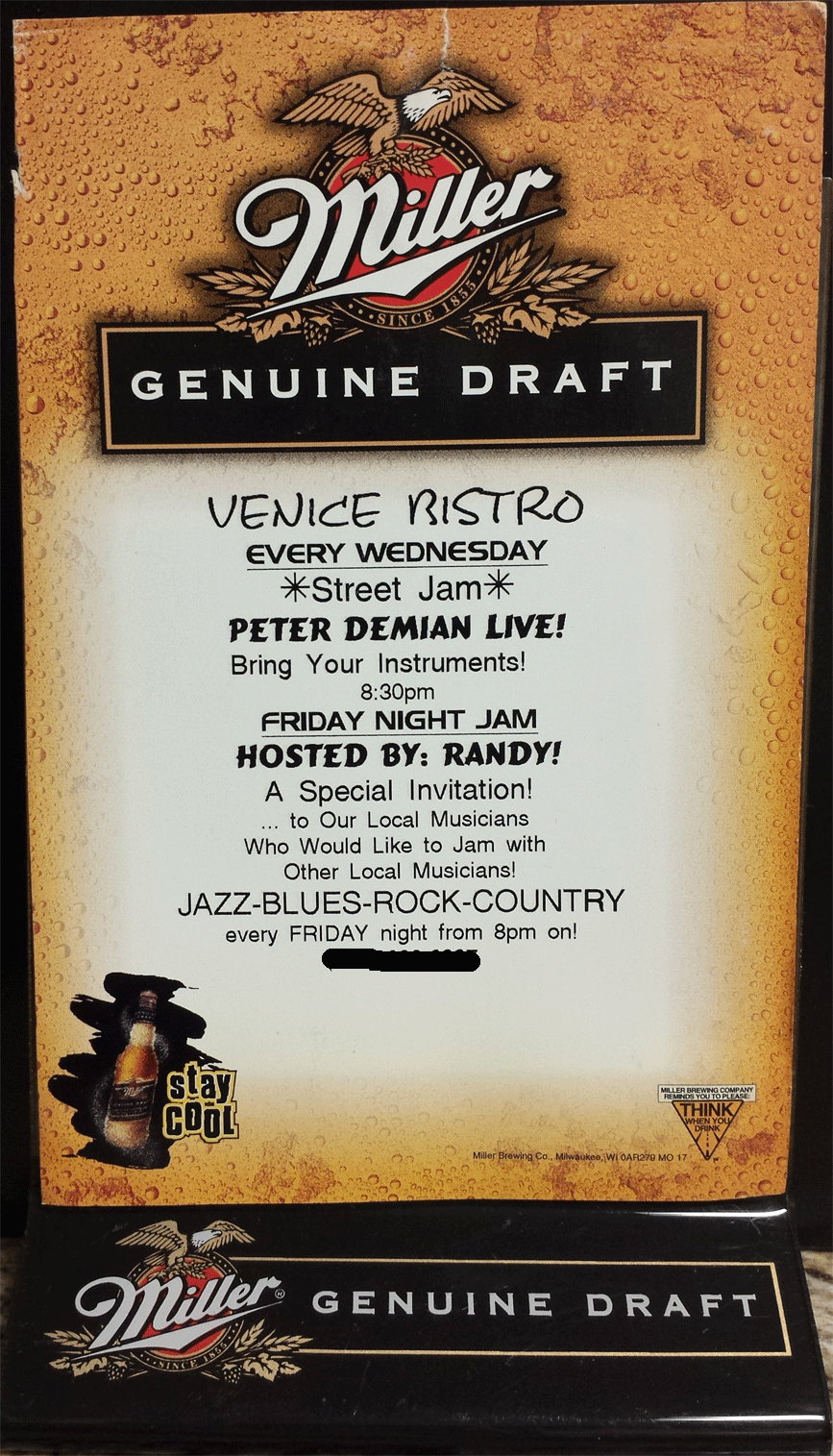 ---
VeniceLion.com